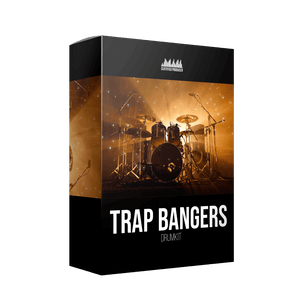 Level Up Your Beats with TRAP BANGERS!
Are you tired of your beats sounding dull and repetitive?
Do you want to take your music production to the next level?
Look no further!
Introducing TRAP BANGERS, a meticulously curated collection of high-quality drum samples designed to elevate your beats and give them that punch and intensity characteristic of the trap genre.
In this kit, you'll find 70 hard-kicking drums, including 808s (tuned to C), kicks, hats, percs, open hats, snares, and claps. 🔥
Each drum one-shot has been carefully crafted, drawing inspiration from the sounds used in some of the biggest commercial records worldwide.
These drums have been processed to deliver the perfect mix energy right out of the box, saving you time and effort in your production process. 🔥
What sets TRAP BANGERS apart is the diverse sonic palette it offers.
We've included a variety of harder and softer sounding drum samples, giving you a wide range of sounds to work with for your next big record.
Whether you're aiming for hard-hitting trap bangers or more melodic and atmospheric tracks, this kit has got you covered.
Don't miss out on the opportunity to level up your beats and never look back.
Download TRAP BANGERS today and unleash your creativity!