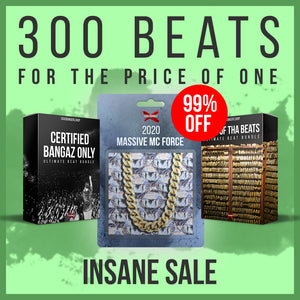 You Will Be Shocked At How Good Your Songs Sound!
Tired of not being inspired by your songs? 
Wish there was an easier way to finish songs faster?
Are you starting to feel like you might not make it as an artist? 
 
If you have felt this way, we have we the answer for you.
Download this
INSANE Deal - 300 Industry BEATS!  
 W
hich includes the LICENSE of the beats made by Cras, industry producer and DJ, for you to use on your next project.

*Regular price is $5000+ for this Insane Deal!
Yours today for only $25!  YES 99% OFF!

Use this INSANE DEAL to level up your buzz and NEVER Look Back! 
HERE'S WHAT YOUR 300 Beat Download LOOKS LIKE:

After investing in this INSANE Industry Beat Offer, all 300 of your new instrumentals will be available for download immediately.
These BEATS Are Just a small taste of what you are getting...
They Usually Sell for $250 EACH! See for yourself!
INCLUDES:
300 Industry Beats
Hours of Beats!

 

(Includes hi-def Mp3 Files - 24-Bit Quality )
All Different Genres

 

( Trap, Hip Hop, R'nB, and Top 40 for your next Hit and much much more! )
The beats come with a Commercial License allowing you to monetize them through your music.
Make money on Tunecore, iTunes, Spotify and More.  )
No beats are "recycled" or "outdated"
Works in all Recording Software.
Industry Mixed and Arranged, Ready for Radio! 


Instant Download Link via email
These beats are produced by industry producer Cras who has created records for Snoop Dogg's Label, Interscope Artists, Platinum Rappers And More! 

Here's what you'll get:
And more:
and more:

and more: