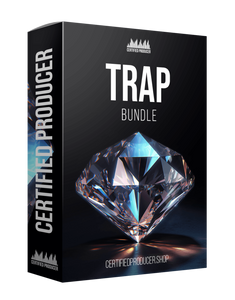 🔥 TRAP BEATS CREATION HAS NEVER BEEN FASTER!
Are you tired of producing mediocre trap beats that never quite hit the mark?
Do you want to elevate your music to the next level? Look no further!
Our collection of over 850 high-quality trap sounds will help you create the beats you've always dreamed of. With our extensive library of sounds, you'll be able to finish your projects faster and stay inspired for months.
Download the Trap Bundle which includes 850+ MIDIs and Loops for you to Drag and Drop into your next beat!
PLUS! FREE BONUS: TRAP BEAT MIXING TEMPLATE
to make mixing your trap beats easier!
🔥 Elevate Your Production with Premium Trap Sounds ⭐
Say goodbye to generic, boring trap beats and hello to professional-sounding music that will make you stand out. Our collection of trap sounds is carefully curated to provide you with the highest quality audio files.
From hard-hitting drums to unique synths and melodies, you'll find everything you need to create a unique sound that represents your style.

🔥 Finish Your Projects Faster with a Vast Sound Library ⭐
With over 850 trap sounds at your fingertips, you'll never have to spend hours scouring the internet for the perfect sound again.
Our library includes a wide variety of sounds to choose from, so you can easily find the right one to fit your project.
Whether you're looking for a classic trap snare or a futuristic synth, we've got you covered.
*Regular price is $999+ for this ENTIRE BUNDLE!
Yours today for only $25!  YES 97% OFF!

Use this TRAP BUNDLE to level up your production and NEVER Look Back! 


HERE'S WHAT YOUR BUNDLE LOOKS LIKE:

After investing in this TRAP BUNDLE, all of your sounds will be available for download immediately.
Below is a set of Packs that you will have in your account:
THESE SAMPLES ARE JUST A SMALL TASTE OF WHAT YOU'LL GET! 
Bundle Includes:
14 Total Packs


850+ Music Loops

 

(Includes, .Wav Files and MIDI Files )
BONUS: FREE TRAP BEAT MIXING TEMPLATE
100% Royalty FREE ( Make a smash hit and owe us nothing! )


No "recycled" or "reboxed" sounds.


100% Compatible in ALL DAWS.



Get Instant Download Link via email
We provide custom loops for producer clients that make beats for: Pop Smoke, Travis Scott, Central Cee, Drake, Post Malone, Kanye West and other chart topping artists!