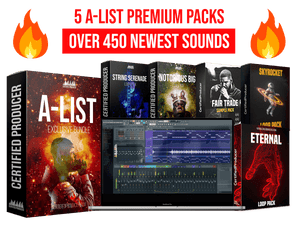 Making Hot Beats Has Never Been Easier!
🎹 Drag and Drop Simple! 🔥
Tired of your beats coming out boring and repetitive?
Wish there was an easier way to finish beats?
Are you starting to feel like you might not make it as a producer?
If you've felt like this, we got the perfect fix for you.

Download the A-LIST Bundle which includes 450+ sounds, 30 Samples (Samples are chopped from real songs and made easier for producer to sample), 92 High-quality Industry loops, 182 MIDI, and 146 Stems for you to Drag and Drop into your next beat.
PLUS - Get this Bonus With Your Bundle!
The "Dark Wave Official" Drumkit Pack (NOW FREE) 🔥

*Regular price is $1,998+ for this ENTIRE BUNDLE!
Yours today for only $25!  YES 97% OFF!

Use this A-LIST BUNDLE to level up your beats and NEVER Look Back! 

HERE'S WHAT YOUR BUNDLE LOOKS LIKE:

After investing in this A-LIST BUNDLE, all 450+ of your sounds will be available for download immediately.
Below is a screenshot of your account: 

🔥
THESE SAMPLES ARE JUST A SMALL TASTE OF WHAT YOU'LL GET!
Bundle Includes:

5 A-List Packs


450+ NEW SOUNDS (JUNE 2023)
100% Royalty FREE ( Make a smash hit and owe us nothing! )


No "recycled" or "reboxed" sounds.


100% Compatible in ALL DAWS.



Get Instant Download Link via email
We provide custom loops for producer clients that make beats for: Drake, Post Malone, Kanye West and other chart topping artists!