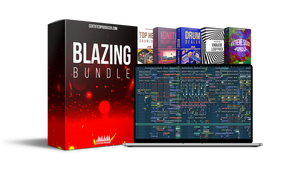 GET 6 FREE BONUS MIDI PACKS!



Making your next Jaw Dropping Beat, GOT WAY EASIER!

SAY goodbye to beat block and finish them beats!
🎹 Drag and Drop Simple! 
Get Blazing inspiration from the everyday struggle with your beats.
Welcome to the land of BUY ONE Blazing BUNDLE, GET FOUR Packs! 
Add more ASTOUNDING Sounds to your library with our NEWEST
*Limited Time Offer BLAZING BUNDLE!
If you have struggled to feel motivated, this solves that problem.

All of these Packs Added Together Cost:
*Regular price is $387+ for this BUNDLE!
Yours today for only $25  YES 91% OFF!
Including 6 ADDITIONAL FREE MIDI PACKS!

*****AUTOMATIC DISCOUNT UPON CHECKOUT*****
HERE'S A GLANCE OF WHAT YOU'RE ABOUT TO GET:

*Your download link will be sent immediately to your email after purchase! :)
Bundle Includes:
4 Total Packs  PLUS

6 BONUS MIDI PACKS!




100% Compatible with ALL DAWS! 


Melody Loops

 

( Bells, Strings and many more! )


DOPE DRUM LOOPS! ( Includes KEY AND BPM for ALL LOOPS )
Drum Sounds

 

( 808's, Hi Hats and more! )


100% Royalty FREE ( Make a smash hit and owe us nothing! )


All hot, dope Sounds From BLAZING PRODUCERS!



Get Your Instant Download Link via email
You get the same quality custom loops as we provide for our producer clients that make beats for: Drake, Kanye and Dr. Dre, along with other chart topping artists!