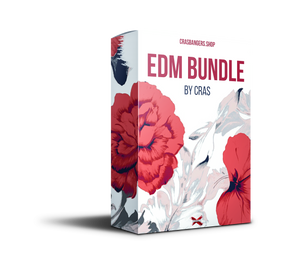 Been waiting for us to release an EDM pack?
You're in for a surprise...
This is a whole EDM BUNDLE!
Have you been struggling with beat sales?
Do you feel like your music doesn't sound current?
Do you want to explore new sounds?

This complete EDM bundle has 20 of our first-ever EDM packs. Create instant hits with 270 EDM melody loops and 695 specialized drum samples that are inspired by Alan Walker, Martin Garrix, Cashmere Cat, ILLENIUM, Marshmello, Kygo, and more!

Mix and match loops and samples to create unique, memorable tracks that everyone will love.
This bundle is 100% royalty-free, with only the highest-quality, industry-standard sounds.
Product Details:
9 EDM melody loop packs
11 EDM drumkits
965 total files
brand-new sounds
100% royalty-free
download link instantly and permanently in your email
Bundle Content:
Warmer Summer Loop Pack
30 WAV files
$17 value 
Ultimate EDM Melodies by Cras Vol 1
30 WAV files
$22 value
Ultimate EDM Melodies by Cras Vol 2
30 WAV files
$22 value
Sunny Coast Loop Pack
30 WAV files
$17 value
Sound Of Ibiza
30 WAV files
$20 value
Fresh EDM Loop Pack
30 WAV files
$17 value
Easy Sunset
30 WAV files
$20 value
Easy Sunrise
30 WAV files
$20 value
Easy Midnight
30 WAV files
$20 value
Ultimate EDM Producer Kit
70 WAV files
$25 value
Suppa Deep House Drumkit
65 WAV files
$25 value
Red Jungle EDM Drumkit
65 WAV files
$25 value
Green Jungle EDM Drumkit
65 WAV files
$25 value
Blue Jungle EDM Drumkit
65 WAV files
$25 value
Massive Jungle Drumkit
65 WAV files
$25 value
Main Stage EDM Drumkit
65 WAV files
$25 value
Innovated EDM Drumkit
65 WAV files
$25 value
EDM Drop Vol 1
65 WAV files
$25 value
EDM Drop Vol 2
65 WAV files
$25 value
Bassdrum Loaded EDM Drumkit
30 WAV files
$19 value