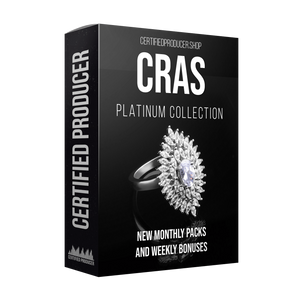 Elevate Your Music with the Cras Platinum Collection

Are you a music producer striving for greatness? Look no further! Introducing the ultimate subscription that will skyrocket your craft to unprecedented heights—the Cras Platinum Collection.
Every month, get ready for an exhilarating delivery of new music packs straight to your inbox. Explore an extensive range of genres, from the pulsating beats of hip-hop to the mind-bending melodies of electronic music.
With the Cras Platinum Collection, you'll possess an arsenal of sounds that will make your tracks shine above the competition.
But that's not all! We believe in nurturing your creativity consistently. That's why we'll surprise you with weekly bonuses, ensuring your creative juices never stop flowing. These captivating additions will keep you inspired, motivated, and constantly pushing the boundaries of your music.
By joining the Cras Platinum Collection, you're not just subscribing to a service; you're becoming part of an exclusive community of like-minded producers who share your passion. Gain access to exclusive content, enlightening tutorials, and insider tips from renowned industry experts. You'll learn from the best, enhancing your skills and staying ahead of the game.
Don't let your music career wait any longer. Embrace this golden opportunity and make waves in the industry. Join the ranks of music makers who are revolutionizing the scene with the MasterTrack Producers' Society.
Are you ready to embark on this extraordinary musical journey?
Seize this opportunity today and witness your music soar to new heights. Your success starts here!
🔥 

Unleash Your Creativity with New Sound Packs Every Month

Stay ahead of the game with the Cras Platinum Collection, the ultimate subscription for music producers looking to take their craft to the next level. Our meticulously curated collection is designed to provide you with an extensive range of high-quality sounds, covering genres from hip-hop to electronic and everything in between. Let your imagination run wild as you explore the endless possibilities that these unique sound packs offer.

🔥 Discover Limitless Inspiration: Each month, you'll receive a carefully crafted sound pack delivered straight to your inbox. It's like unwrapping a musical gift, knowing that new sonic treasures are waiting to be unleashed. With a diverse selection of instruments, samples, and effects, you'll have an entire arsenal at your fingertips to create tracks that captivate your audience and stand out from the rest. Let the power of sound elevate your music to new heights.

🔥 Stay at the Cutting Edge: Our team of experienced producers and sound designers are constantly pushing the boundaries of music production. With the Cras Platinum Collection, you'll always be on the forefront of the latest trends and techniques. Each sound pack is meticulously crafted to ensure that you have access to the freshest sounds in the industry. Be the first to experiment with new sonic landscapes and stay ahead of the competition.
🔥 

Fuel Your Passion with Weekly Bonuses

We understand that creativity thrives on momentum. That's why the Cras Platinum Collection provides you with more than just monthly sound packs. We offer weekly bonuses that will fuel your passion and keep your creative juices flowing. These bonuses are carefully curated to inspire you and push your boundaries as a music producer.

🔥 Unlock Weekly Surprises: Imagine the thrill of receiving a weekly surprise that sparks your creativity. From exclusive loops and beats to production tips and tricks, each bonus is designed to enhance your skills and broaden your artistic horizons. Stay motivated and inspired as you explore new sounds and techniques. Our weekly bonuses ensure that you never run out of fresh ideas and continue to grow as a music producer.

🔥Expand Your Sonic Palette: Our curated weekly bonuses are crafted to help you experiment with new sounds and expand your sonic palette. Push the boundaries of your music by incorporating unique elements into your tracks. Whether you're looking to add a touch of experimental flair or refine your signature style, our weekly bonuses provide the tools and inspiration you need to make your music truly stand out.

So what are you waiting for?

Join the Cras Platinum Collection today and start making music that truly stands out.

You'll be glad you did!