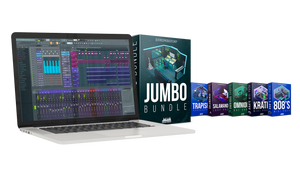 Jumbo Bundle is here!
I'm sure you're a producer, DJ or an artist who creates music.
I've got some dope news for you.
The Jumbo Bundle has been released!
It's a new sound bundle with some of the best samples in the industry.
If you...
are sick of your beats being monotonous and boring
wish there was a quicker method for completing beats?
have the growing suspicion that you won't succeed as a producer?
...we have the
 

Best Solution

 

for you.

Download the JUMBO Bundle before the licenses runs out!
(Remember, only limited licenses are available)

JUMBO Bundle is a one-of-a-kind, all-inclusive package for the beginner to the advanced producer. It's like having a personal beat maker in your pocket.

With JUMBO Bundle, you'll be making sick beats in no time!


It is collection of over 100+ carefully-selected royalty-free samples to fill your creative needs.

With a wide variety of instruments, loops, drum kits, and more, you'll never have to worry about running out of ideas ever again!
*Regular price is $999+ for this ENTIRE BUNDLE!
Yours today for only $25!  YES 97% OFF!
Use this JUMBO BUNDLE to level up your production and NEVER Look Back! 
LIMITED BONUSES!!!
(FOR THE FIRST 10 PRODUCERS ONLY!)
NEW CELEBRITY-PACKS AVAILABLE WILL BE YOURS
THESE SAMPLES ARE JUST A SMALL TASTE OF WHAT YOU'LL GET! 
Bundle Includes:
5 Total Packs + Celebrity-Type Bonus Packs
100% Royalty FREE ( Make a smash hit and owe us nothing! )


No "recycled" or "reboxed" sounds.


100% Compatible in ALL DAWS.


Get Instant Download Link via email

We provide custom loops for producer clients that make beats for: Pop Smoke, Travis Scott, Central Cee, Drake, Post Malone, Kanye West and other chart topping artists!