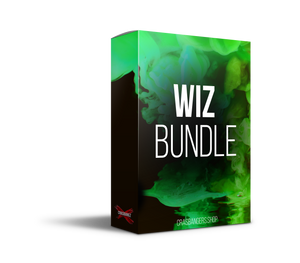 Making Hot Beats Has Never Been Easier!
🎹 Drag and Drop Simple!
Tired of your beats coming out boring and repetitive?
Wish there was an easier way to finish beats?
Are you starting to feel like you might not make it as a producer? 
If you've felt like this, we got the perfect fix for you.
Download the Wiz Bundle which includes 1,500+ drums, samples, kits, loops, and more, for you to Drag and Drop into your next beat.
*Regular price is $397+ for this ENTIRE BUNDLE!
Yours today for only $15!  YES 97% OFF!

Use this Wiz BUNDLE to level up your beats and NEVER Look Back! 
HERE'S WHAT YOUR BUNDLE LOOKS LIKE:

After investing in this WIZ BUNDLE, all 5 of your packs will be available for download immediately.
 Below is a screenshot of your account:
THESE SAMPLES ARE JUST A SMALL TASTE OF WHAT YOU'LL GET! 
Bundle Includes:
5 Total Packs


423 Music Loops (Includes, .Wav Files and MIDI Files )


357 Drum Sounds ( 808's, Kicks, Snares, Loops, FX and more! )


100% Royalty FREE ( Make a smash hit and owe us nothing! )


No "recycled" or "reboxed" sounds.


100% Compatible in ALL DAWS.



Get Instant Download Link via email
We provide custom loops for producer clients that make beats for: Drake, Post Malone, Kanye West and other chart topping artists!