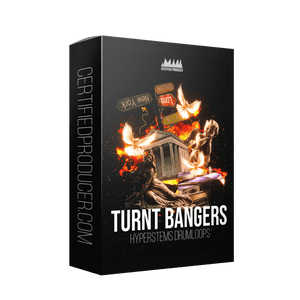 Take Your Tracks to the Next Level with TURNT BANGERS!
Are you looking to add some serious bounce and impact to your tracks?

Look no further than TURNT BANGERS! We've carefully curated a vast array of field-tested drum loops from our team's projects, ensuring that each loop delivers maximum impact and hard-hitting energy.

With 60 meticulously crafted drum loops, you'll have a wide variety of bounces to choose from. These loops have been processed to hit as hard as possible, guaranteeing that your tracks will stand out from the crowd. 🔥

We've even broken down the loops into separate 808, hi-hat, and kick loops, giving you even more flexibility in your production.
But that's not all!

To truly enhance your creative freedom, we've included full stems for each drum loop. This means that you can easily customize and mix each element of the drum loop to perfectly fit your track.

And if you prefer to work with MIDI, we've got you covered. TURNT BANGERS comes with 45 MIDI files for each drum loop, allowing you to add your own personal touch and make each beat uniquely yours.
Don't miss out on this opportunity to take your tracks to the next level. Download TURNT BANGERS today and unleash your creativity!