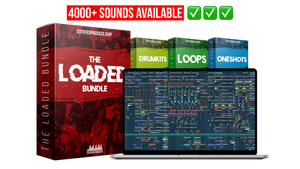 MAKING HOT BEATS HAS NEVER BEEN EASIER!
Tired of your beats coming out boring and repetitive?
Wish there was an easier way to finish beats?
Are you starting to feel like being a producer is just too hard?
If you've felt like this, we got the perfect fix!

Download the The Loaded Bundle! which includes 4,500+ melody loops, samples, drumkits, one-shots, effects, and more, for you to Drag and Drop into your next beat.

Get 100 VST's FREE With Your Bundle!
( Hurry, Now Only! ) 
*Regular price is $999+ for this ENTIRE BUNDLE!
Yours today for only $25! YES More Than 97% OFF!
I will be raising this price very soon.
🔥 100 FREE VST's Included: But wait, there's more! Get 100 cutting-edge VST plugins completely free with your purchase! This limited-time offer won't last, so hurry and grab it now!
💰 Unbeatable Value: Valued at over $999+, the entire Loaded Bundle can be yours today for an exclusive price of just $25! That's more than a 97% discount! Don't miss out on this unbelievable deal!
🎵 Elevate Your Music: With 1250 Loaded Loops that are irresistible to listen to and top-charting, 2000 Loaded One-Shots used by artists dominating the radio, and 1250 Loaded MIDI files for instant access to the hottest scales and chord changes, your beats will never be the same again.
🔒 100% Royalty-Free: Create hit records without owing a dime! The Loaded Bundle offers 100% royalty-free samples, ensuring you keep all the rights to your masterpieces.
🚀 Professional Grade: Crafted by industry producers with a proven track record, these samples have been used by Billboard artists
💻 Universal Compatibility: Compatible with all DAWs, use the Loaded Bundle in your preferred software to make beats without any limitations.
📩 Instant Download: No waiting around! After investing in the Loaded Bundle, all 4,500+ files will be available for immediate download via email, along with the download links for your free VST plugins.
🎶 Limitless Possibilities: The Loaded Bundle contains an incredible variety of melody loops, samples, drum loops, one-shots, effects, and much more! There's no end to the creativity you can unleash with these top-tier tools.
Use this The Loaded Bundle to level up your beats and NEVER Look Back! 
After investing in this THE LOADED BUNDLE, all 4,500 of your sounds will be available for download immediately, and download links for your VST'z as well.
YOU WILL BE SHOCKED AT HOW GOOD YOUR BEATS SOUND WITH THESE BRAND-NEW PACKS NOT TO MENTION 100 FREE VST's!
Level up your beats and NEVER Look Back! 

HERE'S ANOTHER PEEK AT WHAT YOUR BUNDLE LOOKS LIKE:
After investing in the The Loaded Bundle, all 4,500 of your packs will be available for download immediately.
Below is a screenshot of your account.
And More Dope Kits...
And MORE Exclusive Kits....
These Samples Are Just a small taste of what you are getting..
Includes:
4,500+ Files In Total - HQ WAVs + MIDIs (

 

All The Hottest Samples, In one place, for one Low Price.

 )


1250 LOADED LOOPS (Melodies That Are Irresistible To Listen To and Top Charts!

 

)


2000 LOADED ONE SHOTS (FInally Have The Same One Shots In Your Beats That You Hear on the RADIO!!! )
1250 LOADED MIDI ( Get Instant Access to the HOTTEST scales and chord changes that dominate music and stay on top of Billboard charts! )


100 Free VST's

 

( Synths, EQ's, FX, Distortion, Sample Libraries and More! )


100% Royalty FREE

 

(

 

Make a hit record and you don't owe us a dime!

 

)


No sound is "recycled" or "reboxed"


Works in all DAWs (

 

Use these in whatever DAW you use to make beats with.

 

) 


.Wav and MIDI files

 

( High Quality, Organized, BPM and Key Included )


Instant Download Link via email

 

( No Waiting! Just download and start!)
These sample packs are created by industry producers who have made beats for countless Billboard Artists including Snoop Dogg, Da Baby, Chief Keef, Dave East, Post Malone, And More!
Here are more packs you will get in this INCREDIBLY SPECIAL BUNDLE!
THIS ISN'T EVEN ALL OF THEM! WE CAN'T WAIT UNTIL YOU GO THROUGH ALL OF THESE MELODY LOOPS, SAMPLES, DRUM LOOPS, ONE-SHOTS, EFFECTS AND MORE!