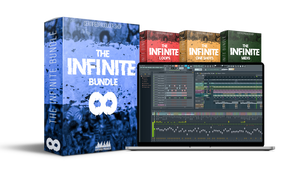 Download until 11:59 pm PST
The ultimate shortcut to creating professional-sounding beats. Get instant access to over 3,000+ signature sounds of our top producers!
Tired Of Not Getting Any REAL Reactions When You Play Your Beats?
Frustrated From Not Making Progress Fast Enough?
Scared You May Be Getting Too Far Away from Your Dreams?

FINALLY, You Can Permanently Improve Your Beats Instantly
⚠️Whether beginner or advanced, these loops change the game for you.⚠️
Don't Believe Us? Check Our Reviews! Thousands of Happy Producers WorldWide!

3000+ INDUSTRY LEADING SOUNDS that usually would cost you $1497 if you purchased the packs individually, for an insanely low price of only - $25

After investing in this INFINITE BUNDLE, all of your sounds will be available for download immediately.
HERE IS HOW TO USE YOUR SOUNDS:

STEP 1 - DOWNLOAD PACKS 
STEP 2 - UNPACK & CHOOSE FROM FOLDERS:
INFINITE MIDIs (500)
INFINITE OneShots (1000)
INFINITE LOOPS (500)
STEP 3 - CLICK & DRAG INTO YOUR DAW:
There is no better Deal for Serious Music Producers than this Special INFINITE BUNDLE right here!
This bundle is loaded with Loop, One Shot kits + MIDIs that're covering genres such as Hip Hop, Trap, Pop, R&B... We provide custom loops for producer clients that make beats for: Drake, Post Malone, Kanye West and other chart topping artists!
You get 3000+ Sounds for the price of 1 Sample Pack.
Everything is original, highest quality and of course 100% royalty-free!
What are you waiting for?
Use the opportunity to fill your stash with some of the best sound bundle in the industry today!

This offer ends soon!
THESE SAMPLES ARE JUST A SMALL TASTE OF WHAT YOU'LL GET! 
Here's all the kits you're getting:
∞ INFINITE LOOPS (700)
∞ INFINITE MIDIS (700)
∞ INFINITE ONE SHOOTS (1000)
 Bundle Includes:
3 Folders

3000+ Files In Total (HQ WAVs + MIDIs)

100% Royalty Free

No "recycled" or "reboxed" sounds

100% Compatible With All DAWs

Get Instant Download Link Via Email