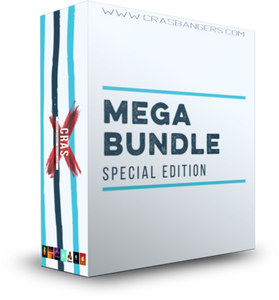 5 FREE PACKS WHEN YOU ORDER TODAY!
YOU WILL BE SHOCKED AT HOW GOOD YOUR BEATS SOUND 👇🎹
Tired of not being inspired by your music? 
Wish there was an easier way to finish beats?
Are you starting to feel like you might not make it as a producer? 
If you have felt this way, we have we the perfect fix for you.
Download the MEGA Bundle which includes THOUSANDS of drum samples, kits and Music Loops, for you to Drag and Drop into your next beat.

*Regular price is $2300+ for this BUNDLE!
Yours today for only $26!  YES 97% OFF!

Use this MEGA BUNDLE to level up your beats and NEVER Look Back! 
Plus 5 FREE MIDI packs!
HERE'S WHAT YOUR BUNDLE LOOKS LIKE:

After investing in this MEGA BUNDLE, all 25 of your packs will be available for download immediately.
 Below is a screenshot of your account:
And More Dope Kits... 
And MORE Exclusive Kits...
THESE SAMPLES ARE JUST A SMALL TASTE OF WHAT YOU'LL GET! 
Includes:
25 Total Packs +

5 FREE MIDI PACKS




1,723 Music Loops (Includes, .Wav Files and MIDI Files )


2,657 Drum Sounds ( 808's Kicks, Snares, Percussion, Loops, Claps and more! )


100% Royalty FREE ( Make a hit record and you don't owe us a dime! )


No sound is "recycled" or "reboxed"


Works in all DAWs


MIDI files



Instant Download Link via email
These kits are used by industry producers who have created records for Wiz Khalifa, Snoop Dogg, Dave East, DJ Mustard, And More!