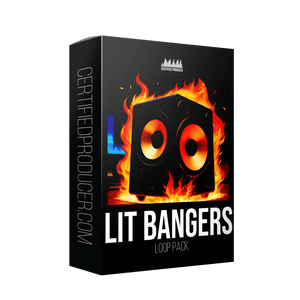 Unleash Your Creativity with LIT BANGERS - Loop Pack!


Are you ready to dive into the hard-hitting world of modern trap music?
Look no further than LIT BANGERS - Loop Pack!



This pack is your gateway to a treasure trove of unique sounds, drawing inspiration from top trap artists like Gunna, Lil Baby, and Drake.

With 50 carefully crafted loops, LIT BANGERS is bursting with creativity and ready to inspire your next hit. These loops feature a variety of popular instruments, ensuring that you have a wide range of sounds to work with. 🔥

Each loop is unique and designed to make your tracks stand out from the crowd.


To further enhance your production process, LIT BANGERS includes 30 MIDI files. These files can be effortlessly incorporated into your production software, allowing you to customize and add your own personal touch to the loops.


Inside the pack, you'll discover 60 fresh, placement-ready melodies in various styles.

Each melody is key and BPM labeled, making it easy to integrate them into your projects. Complete with full stems and MIDI, these melodies provide endless possibilities for your musical journey.


Don't miss the opportunity to immerse yourself in the world of LIT BANGERS - Loop Pack. Download it today and let it shape your musical journey!