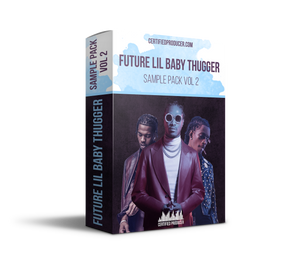 THIS IS A VERY RARE DROP! 

YOUR FUTURE BABY THUG PACK WILL SELL OUT FAST! THIS IS NOT YET RELEASED TO THE PUBLIC!

ONLY 50 LICENSES Available... TOTAL! 

You will be One of a Only a Handful of Producers With This Special Limited Edition Pack!  Get it Now Before They're ALL Gone!  Hurry! VERY RARE AND PREMIUM LOOPS.


IMPRESS YOUR FAMILY, FRIENDS AND OTHER ARTISTS WITH THE HOTTEST BEATS YOU'VE EVER MADE!
USE THIS
Future Lil Baby Thugger Vol. 2


TO LEVEL UP YOUR BEATS AND NEVER LOOK BACK! 

🎹 YES! NOW Drag and Drop Simple! 🎹 

We're VERY proud to present the Future Baby Thug - Sample Pack Vol. 2.

Grab The Attention Of Your Listener In A Way That You NEVER Have Before!

If you want to improve your beats instantly, and make beats for artists that have a sound like Future, Da Baby, and Young Thug then look no further! This sample pack of dope loops  has you covered. 

This sample pack has an elite selection of PREMIUM loops ranging across different BPMs (120 - 160) with 75 full loops (75 HQ WAV files), giving you everything you need to achieve the Industry standard SOUND that you always wanted!

                                      HERE'S A SCREENSHOT OF YOUR ACCOUNT:
THESE PREMIUM SAMPLES ARE SNEAK PEAK OF WHAT YOU'LL GET! 

THIS PACK INCLUDES:
75 of the PREMIUM Loops

 

( HQ WAV files )
Made for Artists Like:

 

(Future, Young Thug, Lil Baby, KidLaroi, Iann Dior...)
BPM & Key Label
100% Compatible in All Daws!
100% Compatible With All of the DAWs:
Some Wonder Why We Are THE BEST?
* Special Note - We are ONLY OFFERING 50 Downloads to The Community. 
Once 50 Downloads Have Been Hit, We Will Stop Offering this Bundle and The Producers Who Have It, Will Be The Only Ones in the Industry With it!
Say Goodbye To The Days of Millions of Producers Having The SAME Loops That YOU DO! Nope! Those Days Are Over! We will NOT be offering more!
I always thought my beats were "good" but I was missing something.  The bad part about it was I never knew what was missing.  

I knew it had to be something because I would get positive reactions, but then that was about it. It wasn't until i started letting my DJ friend listen to my beats, and he started saying ..... "Yo i can hear Jay-Z over this beat....." or "I can hear Drake over this beat...." and EVERY TIME...as Soon as I heard him say that, it hit me. 

He was right!  Yet it was something that didn't come to me right away.
I always had to have someone else tell me, because I simply didn't produce that way.
I still don't to this day. I make the beat and THEN i figure out who would sound best over it.  

The big problem before was that I never Used to do that all important step 2, which was "figure out who would sound best over it".
I would make a beat... vibe out for a little... save it...and then start the next.
I would name it something that was only important to me, or something that popped in MY mind.  That was my BIG mistake. What i SHOULD have been doing was putting time and energy into thinking about who this beat would be FOR. Who would SOUND the best on it. 
Well needless to say, I made those tweaks. And guess what? My youtube views started exploding.  Right away I would get views, streams and clicks on my beats, when before, when I would have a generic name, or a name that only meant something to me...the beat would just SIT there.
That was a really hard time. Imagine putting your blood, sweat and tears into something that is not showing ANY signs of life at all?
It's a hard thing to deal with.  And it's a very scary and lonely journey.
Today I'm giving you a rare opportunity to easily transform your beats into meaningful productions that already have an artist in mind.

I did all of the hard work and assembled DOPE melodies that already have the SOUND of an artist, in them.  All you need to is add your own ideas, and drums.  
The best part about it is that in addition to the loop pack, I'm also including the DRUMS you need, and also an additional bonus pack of sounds and effects.
Yes, from other places you can get loops, but if you get them here with me, I'll give you loops, and drums you need, plus extra sounds and sound effects, PLUS i'm also throwing in my Beat Sales Masterclass that I created when I was traveling around the world. This masterclass was special because i teach you exactly what i used to take my family from California, across country, and even overseas to Africa and Europe and far far places that I never imagined I would ever be able to go. 
I'll tell you more on the trip later, but grab this special package because I'm only letting 50 producers have access to these loops.  After they are gone, that is IT and you will also get a Certificate sent to you, that shows you own one of the only copies of this loop pack. 
Once you purchase, please look out for your Certificate that will come in your email as well.