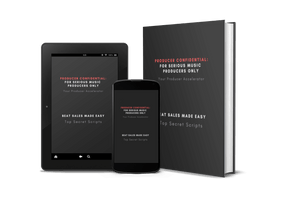 Are you looking for a new and exciting way to make money?
Do you want to be your own boss and have the freedom to work from anywhere in the world?
If so, then selling beats could be the perfect opportunity for you!
This ebook is packed with tips and tricks on how to market and sell your beats, so you can make the most out of your production skills.
As a Certified Producer, you can offer your customers high-quality beats that they can use for their own projects.
You'll be able to set your own prices and work on your own schedule, so you can make as much or as little money as you want.
Unleash the Power of the Confidential Beat Sales Script! Discover the industry's best-kept secret to skyrocketing your beat sales with our exclusive E-book, Sales Domination: The Ultimate Beat Selling Blueprint.
Inside this treasure trove of sales expertise, you'll find a top-secret script meticulously crafted to revolutionize your selling game. Say goodbye to struggling and hello to consistent, jaw-dropping sales figures!
With our 8-step script, selling beats has never been easier. Follow our battle-tested method and watch as your sales soar to new heights. This comprehensive guide equips you with the skills, tactics, and strategies needed to captivate your audience, close deals effortlessly, and leave your competition in the dust.
Unlock the secrets to persuasion, master the art of objection handling, and learn how to create an irresistible buying experience for your customers. Our expertly curated techniques will transform you into a sales powerhouse.
Why wait any longer to achieve the success you deserve? Start implementing the Sales Domination: The Ultimate Beat Selling Blueprint today and witness the profound impact it will have on your online beat business.
Get ready to dominate the beat sales market and watch your profits skyrocket like never before. Take control of your destiny and become the go-to producer in the industry. Join the ranks of elite beat sellers who have unlocked the secret to unparalleled success.
Don't miss out on this once-in-a-lifetime opportunity. Buy Sales Domination: The Ultimate Beat Selling Blueprint now and embark on a journey towards unlimited beat sales success. Act fast, as this exclusive offer won't last forever!
So don't wait any longer, grab the Confidential Beat Sales Script today and start your journey to becoming a certified producer!