[ EXPIRING SOON: EXCLUSIVE SOUNDS FOR YOU ]
"Improve your DRILL beats instantly, finish faster and stay inspired for MONTHS with over 4500 new sounds!"
THIS IS WHAT YOU NEED
FOR YOUR DRILL BEATS
THE DRILL BUNDLE
We're proud to bring you a RARE BUNDLE! 4,500+ INDUSTRY LEADING SOUNDS that usually would cost you $750 for an insanely low price of only - $25! (Today Only)
✔4,500+ Files In Total (HQ WAVs + MIDIs)
✔NEWEST and UNRELEASED PACKS
✔Thousands Premium Sounds
✔100% Royalty Free
✔GET INSTANT DOWNLOAD LINK VIA EMAIL
1. Artists Looking For Beats - List - FREE
The new artists looking list is a complete list of artists who's looking for songs for their upcoming projects. The new artists looking list is updated and published on the first week of each month.
2. Get That BAG - Trap Loop Pack - FREE
High quality sounds that will take your beats to the next level!
3. Dark Wave Drumkit Pack - FREE
Dark Wave is PACKED with the industry drums sounds you'll love. Every single one is studio quality and personally guaranteed by me.
4. Producer Buzz Secrets Course - FREE
It's a step by step blueprint for building your beat sales machine that converts ice-cold prospects into buyers & promoters of your beats.
5. Producer Networking Secrets Course - FREE
Networking Secrets shows you how to network in digital age, teach you exactly what you need to know to hook up with big players in the game.
6. IMPRIMUS - EROS (Loop Pack) - FREE
Take your beats to the next level. Make Hotter Beats Instantly with high-quality sounds!
7. Set To BLOW - Trap Loop Pack - FREE
This Industry Trap Loop packs gives you the sounds I use to create my dope beats.
8. Shock G explains Hip Hop's lineage - FREE
In this never heard before audio masterpiece, musical genius, Shock G explains Hip Hop's lineage from the beginning, The Blues Era... and brings you all the way to Hip Hop…..
9. Cras - 60 Second Beat Producer FLP - FREE
Here is your fastest way to make beats if you are struggling with your melodies. Just pop these into your next beat and use this FLP for you to start tweaking and adding drums too. This is the fastest way for you to level up if you are struggling.
10. Cras - 5 Minute Beat Producer FLP - FREE
Level Up your BEATS with this power packed sounds!
11. Producer Foundations Lessons - FREE
This comprises over 59 step-by-step lessons designed to take you from the total beginning and show you the basics and fundamentals of producer business.
YOUR COMPLETE LIMITLESS BUNDLE ALSO INCLUDES:
SECRET PRODUCER COURSES FROM CRAS
Trap Beats Training
Producer Mixing Blueprint
Beat Selling Secrets ( Bonus )
MONEY-MAKING AND CAREER-CHANGING EBOOKS
3 Proven Ways to End Beat Block for Good
Why Artists Still Buy Beats in Tough Times
5 Ways to Generate More Buzz for your Beats
8 Killer Instagram Tips For BeatMakers
Confidential Beat Sales Script
How To Make A Living Selling Your Beats Online In 4 Months
How To Grow Your Online Beat Sales
The Secret To Weeding Out The Real
From The Fake
The 80/20 Rule
CRAS EXCLUSIVE LIVE BEATMAKING
FL Studio 20 – Cras Making Live Beats from Scratch! + Melody Tutorial
FL Studio 20 Trap Beat Tutorial – How To Make A Beat From Scratch!
FL Studio 20 – Cras Making Beats from Scratch!
Cras Making 2023 Type Beats "Live" ( Behind The Scenes… )
FL Studio 20 Trap Beats Live Tutorial ( 2023 ) ( mac )
Wassup! This is Cras and we are live!
Melody Tutorial – How To Make Melodies in FL Studio 20
FL Studio 20 Trap Beat – Cras Live on Twitch Highlight Video
CRAS MEMBER'S ONLY TUTORIALS
How To Make Trap Drums Quick and Easy
Discover The Secret To Spicing Up Boring Beats
How To Add Spice To Your Beats - EASY
This Subtle Effect Will Add A Ton of Flavor to Your 808 Patterns
How To Spice Up Trap Hi-Hats Quickly and Easily
FL Studio 20 – How To Mix A Trap Beat Lightning Fast!
CRAS EXCLUSIVE SOUND BUNDLES
Blast Off Bundle
Infinite Bundle
Lit Bundle
Uzi Juice Drake Bundle
Future Lil Baby Thugger Bundle
Jay-Z Nas EMINEM Bundle
Platinum Drumkit Collections
Fire Bundle
Massive Bundle
Instead

of buying sound packs and sound bundles for

$25 - $100 each,

why not download our

Complete Bundle for only $1

and get instant access to

ALL of our Certified Producer products (Sound Packs, Sound Bundles, Courses, Tools, Plugins, etc.)?

Not only you will SAVE MONEY,

but you will also get all the tools you need to

MAKE MONEY from your beats.

Question: Are you a beat maker who struggles to reach your full creative potential?



Do you find it challenging to find the right sounds and techniques

to make your beats stand out?



When you created beats with those challenges, how did they sound?
Most likely, they probably sounded flat, boring, or repetitive, LOL. Not to mention, you spent countless hours producing them, and when you heard them, they weren't worth it.

You sit down to create beats, eager to bring your musical ideas to life.

But instead, you find yourself staring at a blank screen or endlessly scrolling through sound libraries, feeling overwhelmed and unsure of where to start.



It's disheartening when your beats don't reflect the talent and passion you know you have within you.



But here's the good news:
You don't have to stay stuck in this frustrating cycle.



With our unlimited access to all sound bundles, courses, and tools, you can break free from the limitations holding you back.





We provide beat makers like you with the resources and guidance to unlock your full creative potential and transform your beats in less than 6 weeks



Producer Accelerator Program will INSTANTLY give you an EXCLUSIVE Environment where you will...

Save Time and Effort:

Say goodbye to endless searching for the right sounds and techniques. Our platform provides you with

unlimited access to all sound bundles, courses, and tools,

saving you valuable time and effort in finding the resources you need.

Unleash Your Creativity:

Break free from

CREATIVE BLOCKS AND UNINSPIRING BEATS.

With our extensive collection of curated sound bundles and packs, you'll have a wealth of options at your fingertips, sparking new ideas and allowing your creativity to flourish.

Learn from the Best:

Gain knowledge and insights from industry experts through our comprehensive courses. Whether you're a beginner or an experienced beat maker, our courses are designed to cater to your specific needs, helping you

sharpen your skills and take your beats to the next level.

Streamline Your Workflow:

Our powerful tools and plugins are specifically designed to enhance your beat-making process. From intuitive interfaces to time-saving features, you'll experience a more streamlined workflow that allows you to focus on creating music instead of getting caught up in technical complexities.

Expand Your Knowledge and Skills:

Access our wide range of ebooks and resources covering various relevant topics in beat making. Learn new techniques, explore different genres, and deepen your understanding of music production, empowering you to grow as an artist.


Stay Inspired and Motivated:

Our regular updates and fresh content keep you inspired and motivated throughout your beat-making journey. Experience a constant flow of new sounds, ideas, and techniques, ensuring that your creativity never runs dry and providing ongoing inspiration to fuel your passion.

All The Tools For Your Next Beat Masterpiece Are Right Here!
THIS IS FOR ⚠️ELITE PRODUCERS & BEATMAKERS ONLY⚠️
What Are You Waiting For ?
Put The $1 Down Today & Get Full Access!
Perhaps you're worried about the monthly tuition of $1.23/day. Keep in mind, this isn't due until 30 days after your membership begins. We believe in giving you value FIRST, allowing you to try out the entire training center before we ask you to pay for the tuition.

If you feel you cannot stay in the program for any reason, simply cancel and it'll literally take 30 seconds to automatically un-enroll from the program. What you should be thinking about today - in the moment - is investing $1 to get access to your choice of over 600 lessons and training topics.

$1... today. It is our goal in this first 30 days to completely blow you away and and prove to you that you should remain a member of the Producer Accelerator Program. If we do our job, we are certain you will find room for this type of ongoing training.

If we don't knock you off your feet with our comprehensive training resources and tools, simply cancel. You are not committing to anything today but the $1 investment for the first 30 days. After 30 days, simply do nothing and you will become a full-fledged member.

Walk away by canceling before 30 days and owe nothing more. Will you find a way to put down the $1 to get started today or will you always wonder what this training "could" have done for your producing?
Click here to get started today for only $1
STEP 1: DOWNLOAD PACKS
STEP 2: UNPACK & CHOOSE FROM FOLDERS:
STEP 3: CLICK & DRAG INTO YOUR DAW:
Take Advantage Of This LIMITED TIME OFFER To Join the Producer Accelerator Program For Only $1 on your First Month. Normal Price Is $37. You Have NO RISK, Download as many sound packs and bundles and watch courses as many as you would like for a month. After the 30 days the tuition is only $1.23/day, if you decide to remain a member. Cancel Anytime.
gallery + allProductReviews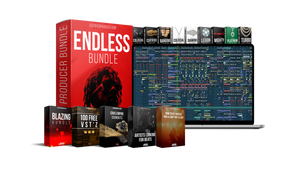 Making Hot Beats Has Never Been Easier!
🎹 Drag and Drop Simple!
Tired of your beats coming out boring and repetitive?
Wish there was an easier way to finish beats?
Are you starting to feel like you might not make it as a producer? 
If you've felt like this, we got the perfect fix for you.
Download the ENDLESS Bundle which includes 1,000+ drums, samples, kits, loops, and more, for you to Drag and Drop into your next beat.

PLUS - Get 100 100 VSTs With Your Bundle! ( Today Only ) 
*Regular price is $1,899+ for this ENTIRE BUNDLE!
Yours today for only $25!  YES 97% OFF!

Use this ENDLESS BUNDLE to level up your beats and NEVER Look Back! 

HERE'S WHAT YOUR BUNDLE LOOKS LIKE:
After investing in this ENDLESS BUNDLE, all of your packs will be available for download immediately.
Below is a screenshot of your account:
AND MORE...!
"Attention, music producers and audio engineers! Are you tired of scouring the internet for high-quality sounds that will take your projects to the next level? Look no further, because the Endless Bundle is here to save the day.
The Endless Bundle is a must-have for any music producer.  This collection includes over 1000 high-quality WAV files that are perfect for use in any project.
But it's not just about quantity - the Endless Bundle also delivers on quality. All of the sounds in this collection are recorded and processed to the highest standards, ensuring that they will fit seamlessly into your mixes and bring your tracks to life.
So don't waste any more time searching for the perfect sounds. The Endless Bundle is the ultimate resource for any music producer or audio engineer, and it's all just a click away. Take control of your audio library and you won't be disappointed.
So don't wait - add the Endless Bundle to your audio library today and take your production to new heights!"
Bundle Includes:
100% Royalty FREE ( Make a smash hit and owe us nothing! )
100% Compatible in ALL DAWS.



Get Instant Download Link via email
We provide custom loops for producer clients that make beats for: Drake, Post Malone, Kanye West and other chart topping artists!