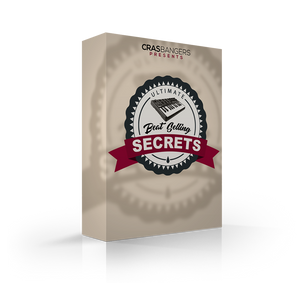 Discover How To Sell More Of Your Beats To Hungry Artists!
Are you tired of spending hours making beats only to have no one to sell them to?
Are you tired of being ignored even though you have fire beats?
Do you want to get your music out there and be heard?


If this sounds like you, then what you see next, can quite possibly transform




producer life forever!





I used to be in your shoes...hungry to succeed and I didn't know where to start!



After YEARS of grinding, I finally put all the pieces of the puzzle together,
and figured out a SYSTEM that kept new artists coming in like clockwork!

I paid for producer formulas, i tried many things, i failed, and kept trying,
until FINALLY i discovered a proven process that gets results as 
soon as  it's setup!

My online Beat Secrets Training Course teaches you exactly 
How To Make Money Selling Your Beats faster than you thought possible!
(NORMALLY $397)
$147 TODAY ONLY!
Beats Selling Secrets shows you
how to sell your beats step by step...
... and includes unlimited lifetime access and free updates for life.

WHAT YOU'LL FIND INSIDE...
The course contains four video training modules
In the video module, you learn the fundamentals of beat sales and beat marketing.  How to sell beats and what makes artists want to buy.

In the second video module, I show you how to properly set up your own system to sell beats and teach you out the best places on the web to sell your beats.

In module three I dive into the making of your first list of leads (or potential artist clients) and how to know which of your artist leads is ready to buy.

Finally, in module four we'll discuss the three key steps to making a sale and advanced secrets and insights that cover being able to dominate beat sales. 
After you finish this beat sales training you'll be ready to tackle the beat marketing side of your producer business and start building your artist lead list to keep an active group of artists buying your beats and returning customers.
 Massively kick-start and increase your beat clients as FAST as possible.